Ambrose Air, Inc.
has been a family-owned AC repair and HVAC company in Orlando for over 25 years. Our slogan, "Honesty and Quality at a Fair Price," speaks directly to our aim of keeping our customers happy.
Rely on Ambrose Air for Fast, Professional Ice Machine Repair
Commercial ice machines are among the best inventions of the 20th century. They allow business owners to always have a fresh supply of ice ready at their disposal for everything from creating ice-cold beverages to keeping foodstuffs properly chilled.
But like any equipment that has mechanical parts, ice machines can fail to produce ready-made ice cubes as expected. That's when it's handy to have the telephone number of Ambrose Air Inc. on your speed dial so you can arrange for fast and professional ice machine repair on 24/7 basis. If your business that can't offer customers an ice cold beverage, getting your ice machine repaired quickly, efficiently and at a reasonable price is one of the jobs that Ambrose Air does best. We can service and repair all makes and models of commercial ice machines at any and all business locations.
There are a number of issues that can cause your ice machine to not function properly. These include:
Locating the machine in a room where the temperature remains consistently warm. Some ice machine models are designed to automatically shut down if the temperature of the room where they are located remains at 100 degrees or higher.
Water temperatures that are too high, over 90 degrees F, can also cause havoc with your ice maker's freeze cycle timer. Using warm or hot water to make your ice cubes will take the machine much longer to operate and in all likelihood will eventually clause the machine to shut down.
Water leaking inside the machine is another common cause for ice machine problems. If the water valve that allows water to enter your ice machine has any type of crack or leak, the ice cubes produced will become too large, eventually clogging the machine by freezing it up.
Likewise, restricting the flow of water into your ice machine will cause ice cubes that are too small in size, look white or opaque rather than clear, or appear to be malformed. A clogged water filter may be the culprit because it can cause the evaporator to freeze over, eventually making the machine malfunction and create no size of ice cubes at all.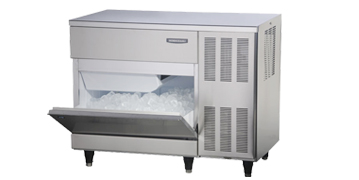 If you notice that business ice machine isn't functioning as well as it used to, or it has stopped working completely, don't make the mistake of simply shutting it down and then restarting it later in the hopes that the problem will just magically disappear. We invite you to call Ambrose Air Inc. at the first sign of ice machine problems so that we can schedule a visit from one of our experienced technicians to make a service call.
When it comes to ice machine repair, you can expect fast, friendly and courteous service from Ambrose Air Inc. at any hour of the day or night, at any time of year. We know how important a fresh supply of ice cubes is for business operators on a year-round basis, not just when the weather is hot.
As soon as we schedule a visit by our experienced service technician, you can expect them to arrive at the designated time and well prepared to fix the problem. Our technician will thoroughly examine your unit and provide a detailed overview of what's causing the problem along with estimated repair costs. Ambrose Air has a reputation for integrity, and we will also inform you if your best investment is for us to install a new unit rather than repair the current one. For professional and affordable ice machine repair, contact Ambrose Air at 407-857-0889.
Ambrose Air, Inc. has been a family-owned AC repair and HVAC company in Orlando for over 25 years. Our slogan, "Honesty and Quality at a Fair Price," speaks directly to our aim of keeping our customers happy.